Aquatec designed and delivered a pressure sewer network for a 430-lot residential development in Point Lonsdale, a first of its kind scheme for Barwon Water.
Leading providers of innovative wastewater solutions
Barwon Water is regional Victoria's largest Water Corporation, providing water and sewerage services to more than 300,000 people in the Geelong and Bellarine Peninsula region.
Prior to 2015, Barwon Water had not considered Pressure Sewer Systems as a long-term dependable solution for their service area, with the majority of networks being connected to conventional gravity sewer. However, increased use of pressure sewer across the industry, and proven technology advancements led by Aquatec's research and development team, led to a review of this position.
Barwon Water chose Aquatec Fluid Systems to design, deliver and install their first large pressure sewer scheme at Point Lonsdale.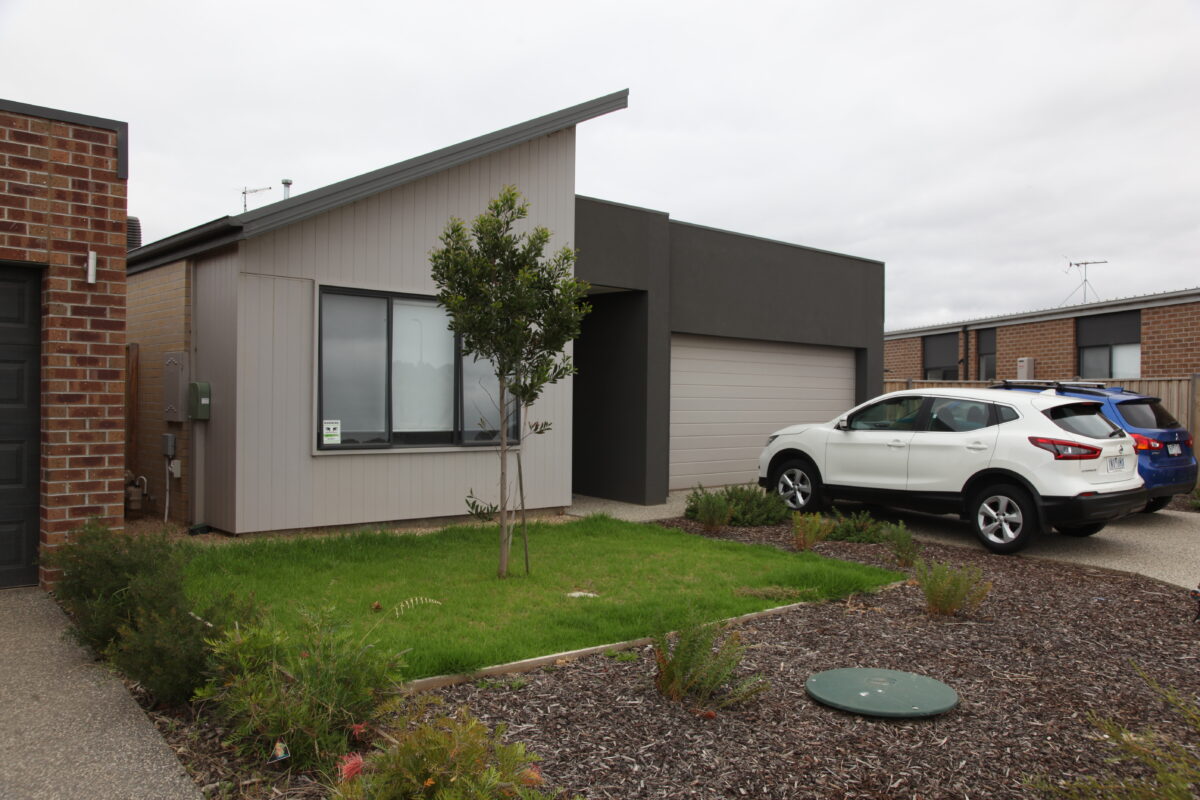 Designing networks to minimise safety risks and environmental impact
The Point in Point Lonsdale is a coastal development comprising of:
430 residential lots
a 170-unit retirement village
a childcare centre, and
a Community Hub with retail/commercial precincts.
The Point is completely flat, very close to the water table and predominantly on landfill. Upon deciding conventional gravity sewer was not feasible due to the depth of excavation required and the associated costs and safety concerns, Barwon Water approved the use of pressure sewer to overcome these challenging environmental conditions.
Aquatec were engaged to complete a preliminary hydraulic design and concept layout for the project, and continue to collaborate closely with Barwon Water, the head developer, and their consultants and civil contractors as each of the 18 stages are developed.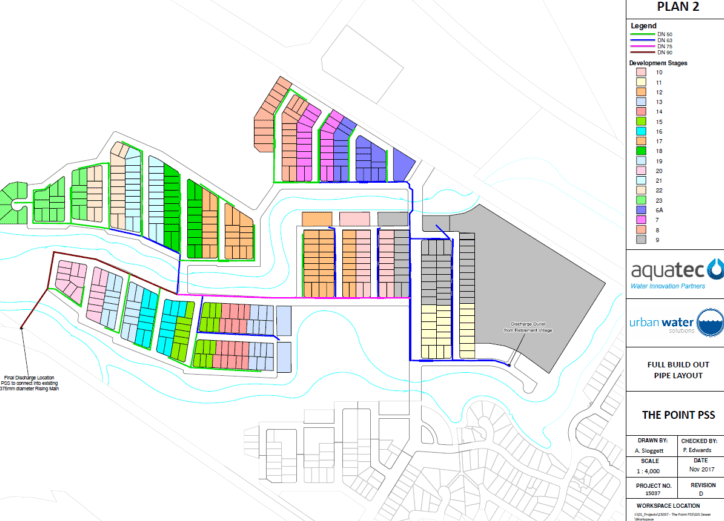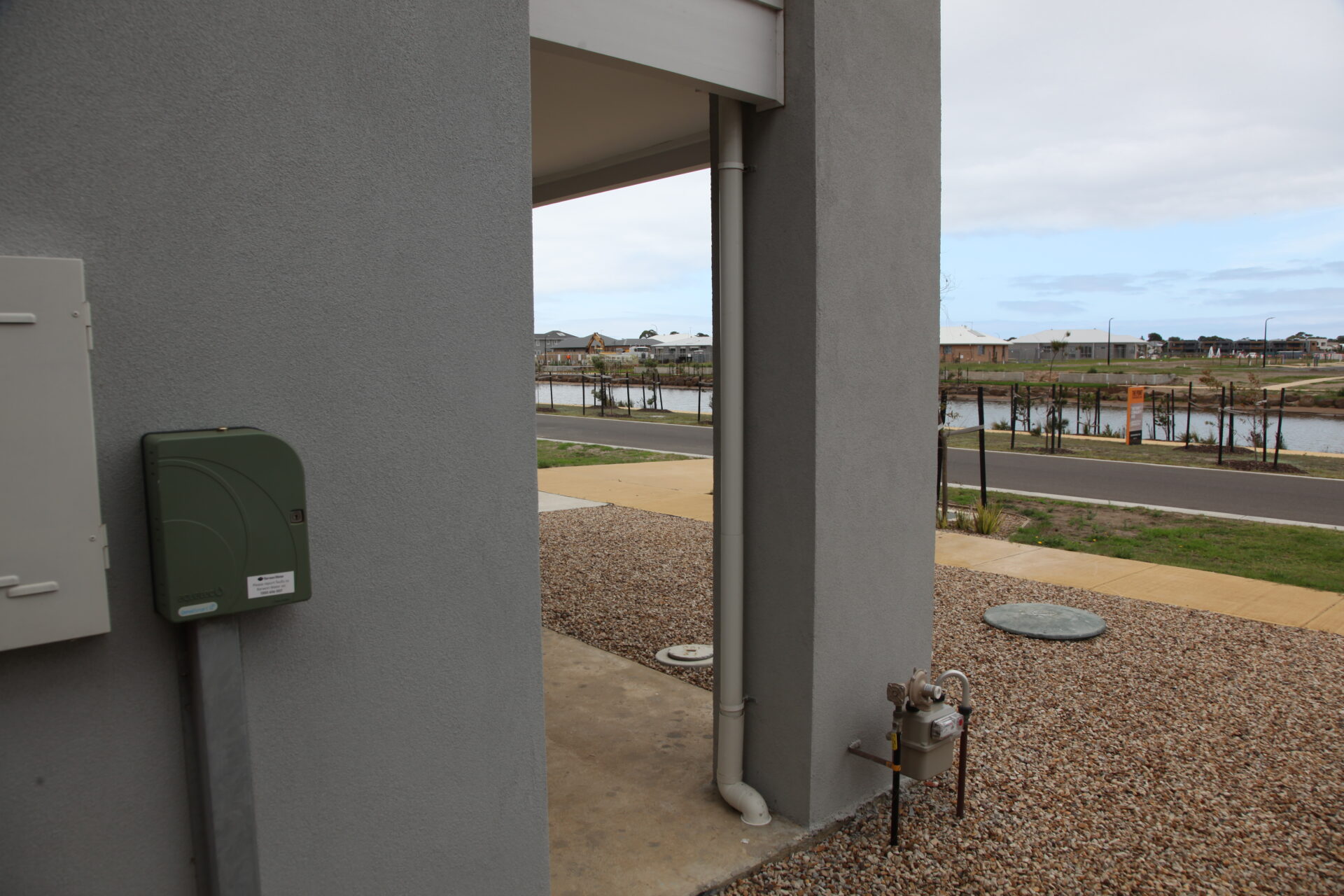 Living our values – Innovation, Collaboration and Excellence
In the concept stage, Barwon Water expressed a preference for the entire Pressure Sewer System to be connected to telemetry to enable 24/7 alarm notification, thus prioritising system maintenance and knowledge capture. To facilitate this, each individual Aquatec OmniSmart pump controller can be monitored via Barwon Water's SCADA management software, and is programmed with time-based smart protocols to control pump operation. Alarm notifications and diurnal adjustments ensure the network runs efficiently as each new residential and commercial site is connected.
Aquatec worked closely with Barwon Water to ensure that all homeowners, builders, and plumbers understand their scope and responsibilities in the installation and operation of the scheme, including assistance with the creation and implementation of a pressure sewer policy and procedure.
Barwon Water's comprehensive review of their position on the use of pressure sewer considered cost-efficiency, innovation, and long-term operational success. Aquatec were pleased to demonstrate our technology and deliver on each of these key factors, due to a proven track record of successful projects of a larger scale with other Water Authorities.
In summary, Aquatec's end-to-end solution, coupled with a strong commitment to our core values of Innovation, Collaboration and Excellence, was central to the project's success.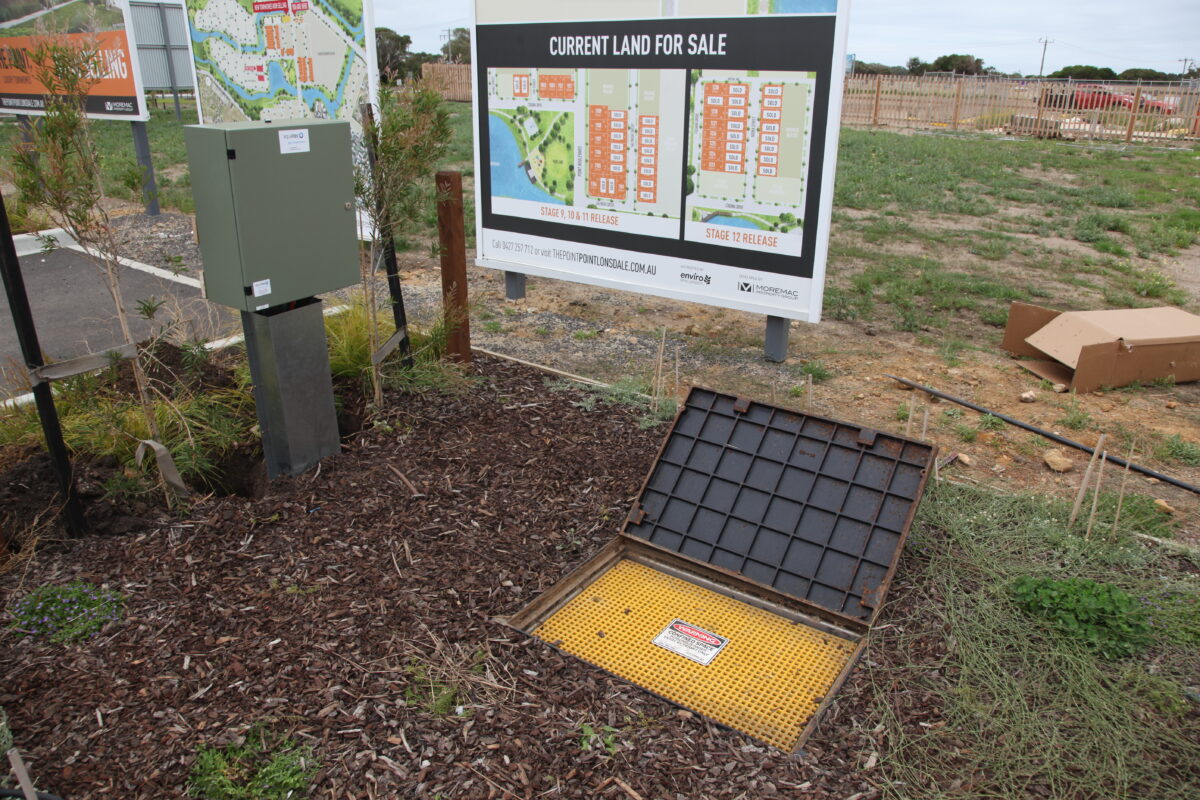 Long term partnerships
Aquatec continue to play an active role in overseeing the performance and operation of the Point Lonsdale pressure sewer network. Our technical team ensures that the monitoring system continues to function to support Barwon Water in the life-cycle management of the asset.
The integration of each OmniSmart controller into the overarching SCADA system has provided Barwon Water with the ability to collect and retain data for assessment. The customer engagement and regulation possibilities afforded to water authorities with the OmniSmart technology are constantly expanding, from identifying illegal stormwater connections and water leaks, to intruder alerts and secure data storage in the cloud.
Aquatec Pressure Sewer Systems are adaptable and flexible to cater for the evolution of a large scale, multi-use land development. For example, if the Community Hub at The Point were to become a food outlet, Aquatec are able to assess the hydraulic impacts of the likely increases in daily discharge volumes and adjust the discharge control philosophy accordingly to meet Barwon Water requirements.
The Point development illustrates Aquatec's position as a trusted advisor in the water and wastewater industry, supporting residential and commercial development in both metropolitan and regional sectors.