Aquatec designed and constructed a precast concrete sewer pump station to Unitywater specifications for a new industrial development in Chevallum, providing a cost-effective solution for the developer and overcoming challenging site conditions.
Providing for current demands and future growth
Located on the western side of the Bruce Highway on Queensland's Sunshine Coast, the suburb of Chevallum is home to a growing residential and industrial precinct. The 26 hectare industrial and farming catchment consists of over 100 Equivalent Tenements within six separate land parcels. Unitywater development conditions required the developer to provide a sewer pump station capable of catering for all future development on the site.
Both cast in-situ and precast concrete pump station options were explored by Cummings Group, the lead infrastructure engineer for the project, but ultimately it became evident that Aquatec's precast system was the most efficient solution in terms of cost and construction.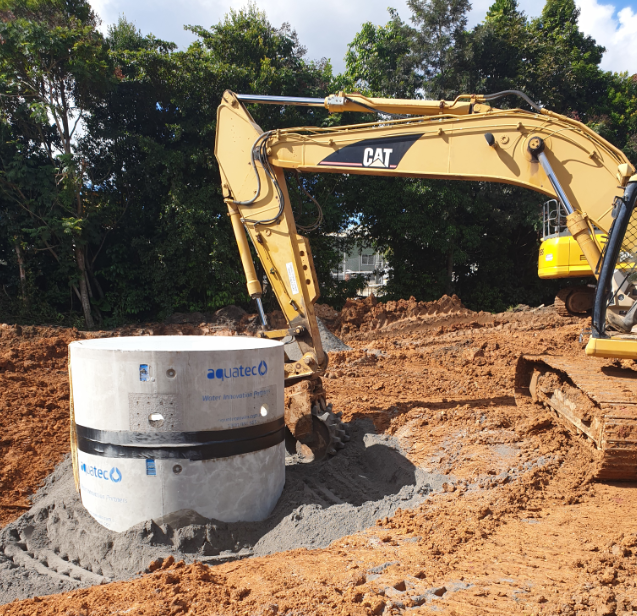 "Aquatec delivered the most suitable solution for the project at hand. They were flexible with delivery and installation options – and were happy to work with our tight delivery schedule."
— David Cummings, Civil Director, Cummings Group
Full compliance to authority requirements providing peace of mind
Aquatec completed the detailed design of the pump station and partnered with Carruthers Contracting for construction. Aquatec's site team carried out the mechanical and electrical fit out of the asset, as well as full onsite commissioning upon completion. The pump station comprised of a 2.25m diameter x 7m deep heavy duty reinforced concrete pumping chamber, with all components built to full Unitywater specifications. Aquatec's scope also included:
Application of Unitywater-approved HDPE liner to all internal surfaces of the chamber
Provision of a separate precast flow meter chamber, well washing system, and 7m vent pole
Supply and installation of a 2.5m diameter x 5m long fibreglass storage vessel, complete
with an RPEQ composite engineer's certificate for Unitywater acceptance.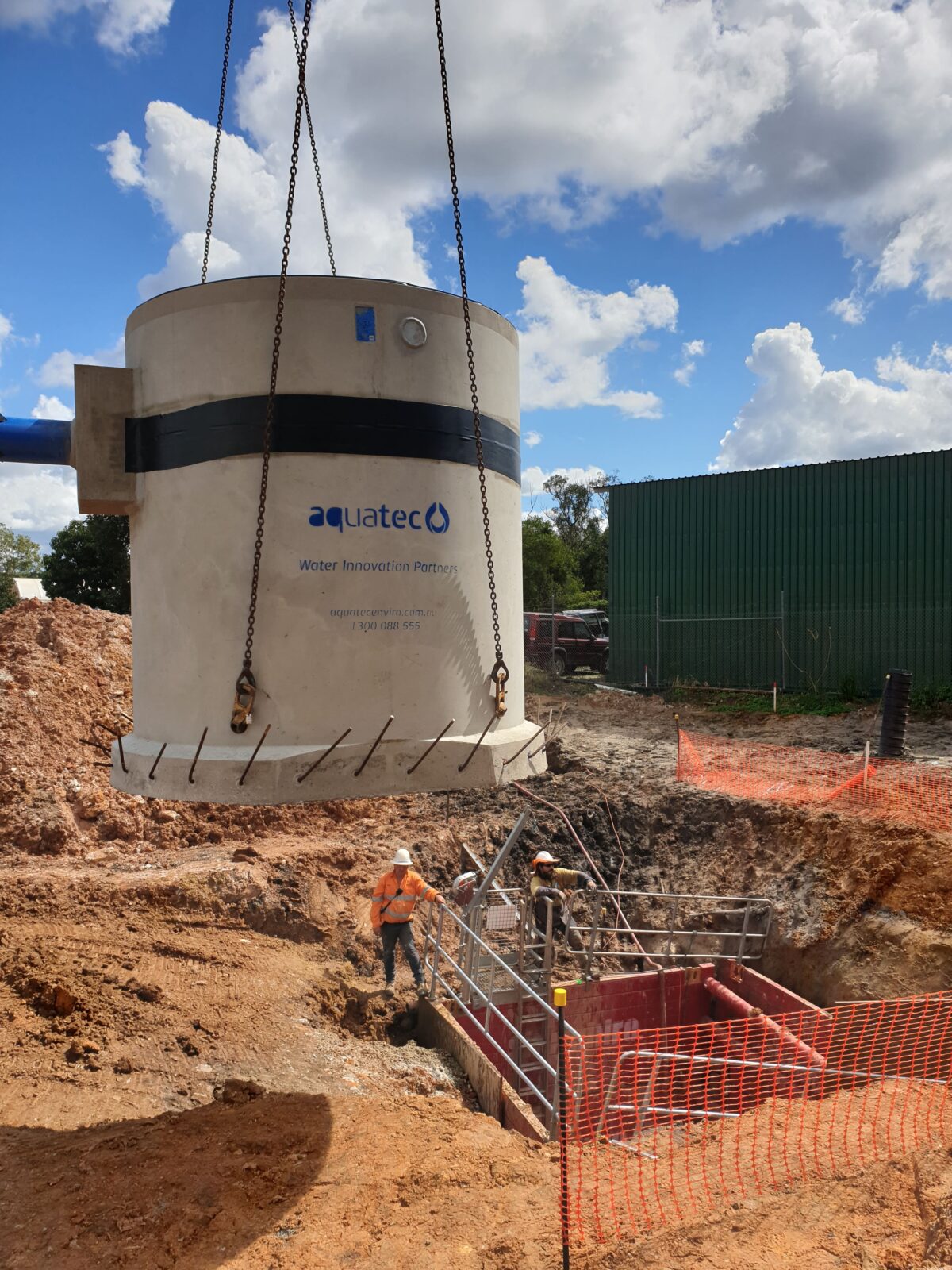 Flexible and practical methods to suit site conditions
Cost-effectiveness and constructability were the two main factors considered by the client when deciding to work with Aquatec to deliver this vital infrastructure.
Aquatec's proven track record of successful similar pump stations in the area provided the developer with the assurance that the finished product would satisfy all of the Unitywater and SEQ Code requirements. This resulted in a quick and simple final approval process with the water authority once the asset was completed.
A wetland area is located adjacent to the development site, and the pump station was installed at the bottom of the catchment close to an old creek bed. Therefore, the use of a precast concrete chamber rather than cast in-situ, as well as the flexibility of Aquatec's site team to get in and out of the area quickly, proved crucial to the success of the project.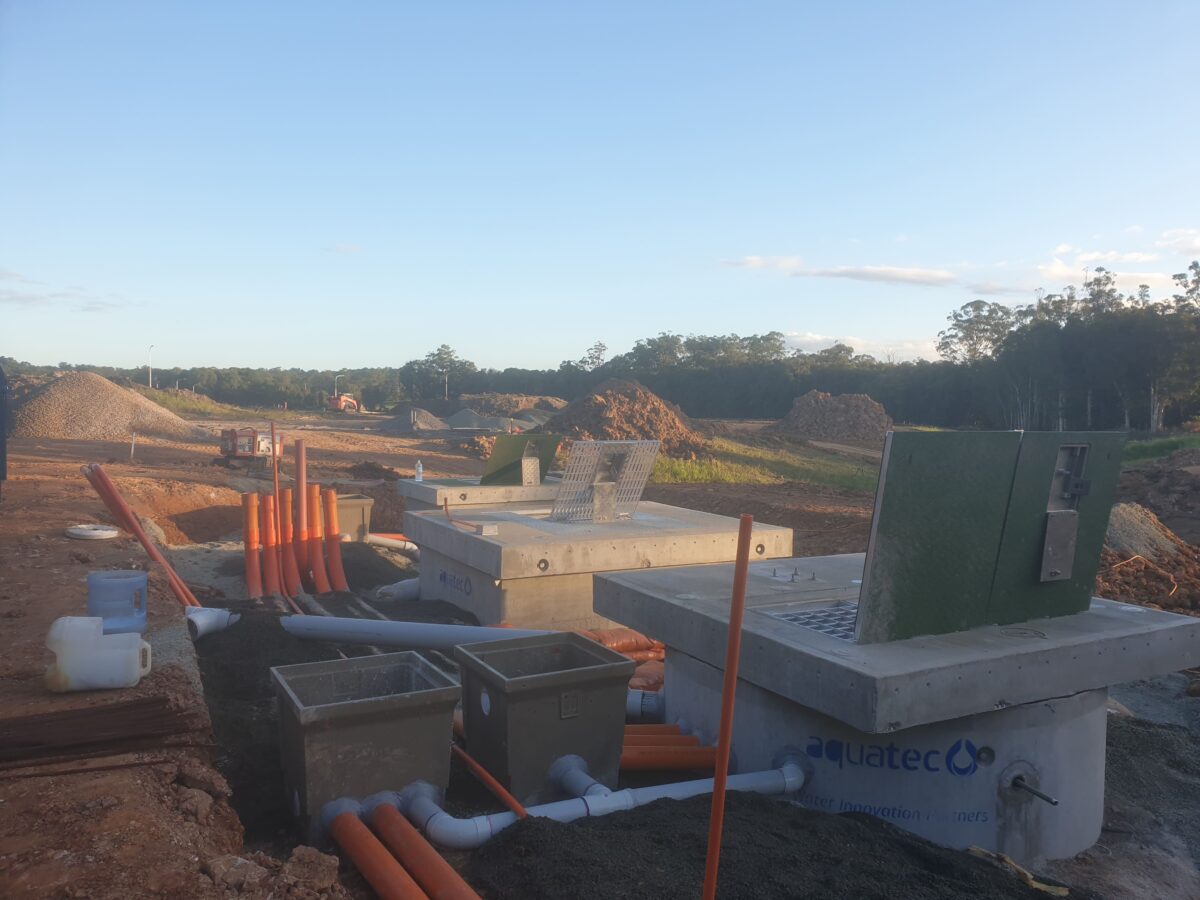 "Although the project (like all projects) had its fair share of construction challenges, Aquatec was able to work with all parties involved to resolve and finalise the product to an exceptional standard that was approved by all.
We would recommend Aquatec to others due to their professionalism, extensive knowledge and can-do attitude for the delivery of such an important asset."
— David Cummings, Civil Director, Cummings Group